On October 29th, 2020 a ground-breaking moment took place over Zoom. Student representatives from 10 schools of architecture came together to discuss their school's progress on Equity and Racial Justice. Our two guests were Ms.Camille Michell, founder of BAIDA and BEAT Toronto, and Dr.Tammy Gaber, of Laurentian University. 100 people attended on Zoom, and 20 on our YouTube Livestream, which is archived here: https://youtu.be/JOAp3OIyCgI. Students shared their school's progress since this summer's Black Lives Matter movement began to incite wider calls of racial justice. They also shared their grievances, and many attendees shared their land stories in the chat. 
KEY TAKEAWAYS:
 We must speak up and question everything. We have been labelled as agitators, ungrateful, and disrespectful for doing so, but we must keep questioning. 

Content outside of the Western Canon exists; we must demand that it is researched and taught.  The curriculums must change, and this should not be the burden of BIPOC professors, TAs, and students alone. 

There are no statistics available on the numbers of BIPOC students, professors, or architects in Canada. Schools and professional associations must track this data if we are to track any change. 

Many schools have large numbers of female undergraduate students, but few women ever become registered architects. Why is that? 

Black students of architecture more or less never win awards recognizing their work while in school.  Why? 

Activism is about building community and a network of support, as well as working towards a goal. 

Architecture comes with large extra costs because of supplies needed for studio work, as well as field trips, high-quality laptops, DSLR cameras, 3D printers, tablets, and more. What can we do to address the fact that most students cannot hold down a job while in school? How can we provide financial aid that addresses these extra costs?  How can we recruit more working class students? The costs of architecture school perpetuate elitism in the profession. 

90% of our student representatives were BIPOC women. The majority of our attendees were women. Why women? It seems like BIPOC men can shelter in their male-ness in order to fit in with the architectural establishment, and white women can use their whiteness to assimilate themselves. This is not possible for BIPOC femmes and gender-nonconforming folks. This means that BIPOC femmes bear the brunt of the repercussions for speaking out, and have the hardest time in school, in the workplace, and in professional associations. It is only through building communities of other BIPOC femme designers that we are able to survive. 

We must make sure that when we leave school, there is a next generation of BIPOC students who is prepared to take on this work. 
Institution
Do they have a Racial Equity Taskforce?
Student Advocacy Groups
 What is Unique to the Program in terms of Equity?

University of British Columbia

YES

YES, NOMAS

Those who completed a non-architectural undergraduate degree can apply to the Master's program, thus opening up architecture to people of many different backgrounds. 

University of Calgary

NO

YES, 

​

Advocates for Equitable Design Education​ (AEDE)

Has "Block Weeks" which are weeks when regular classes stop to focus intensively on a specific topic or problem. Guests and non-tenured professors come in, and this is a chance to break out of the canon. 

University of Manitoba

NO

YES,  Indigenous Design and Planning Student Association (IDPSA)

Freshman experience an entire day out on the land learning about Indigenous building techniques. 

Laurentian University

YES

YES, 

Opportunity to learn from Indigenous elders, and build Indigenous structures throughout the undergraduate and graduate programs. 

University of Waterloo

YES

YES, Treaty Lands, Global Stories

Has a co-operative education program, which allows students to earn money while in school and gain experience. There is a need for pay transparency and equality in the co-op system. Also has a cultural history program so there is time set aside to learn about culture/history, it just must be done from perspectives in other than the Western.

University of Toronto

YES

YES, Student Equity Alliance

Skipped this question

Ryerson University

YES

YES, 

DAS Anti-Racism Call (DAS-ARC)

Still has a reputation as a polytechnic school, which can be both to its advantage and not. They are a

lso known as a commuter school at the heart of downtown Tkaronto, and their technical-based curriculum and culture focuses on its community outreach and fitting to the industry's standards. Through the co-op and exchange program (as well as networking events)... these opportunities can be seen as an advantage or not if they are not handled with diversity and inclusion of our BIPOC communities and organisations in mind.

Carleton University

NO

YES,  

ASAU Diversity Working Group (.dwg),

Has a conservation and urbanism stream within the School. This provides an opportunity to question what is worth conserving? 

McGill University

NO, did hire a third party consultant

YES, Race/Space reading group

Has brought in many faculty to research and teach on climate change, which is a force that disproportionately affects marginalised groups. The Graduate program also offers global studios which allow students to learn in environments across the globe. 

University of Montreal

Did not have a representative at the panel

UNKNOWN

UNKOWN

University of Laval

Did not have a representative at the panel

UNKNOWN

UNKOWN

Dalhousie University

YES

YES, 

Where is Dal Arch?

Skipped this question

RAIC through Athabasca University

NO

NO

 Is a completely online Bachelors of Architecture which provides access to people of many abilities. 
Students also worked through this Bingo in order to compare their school situations.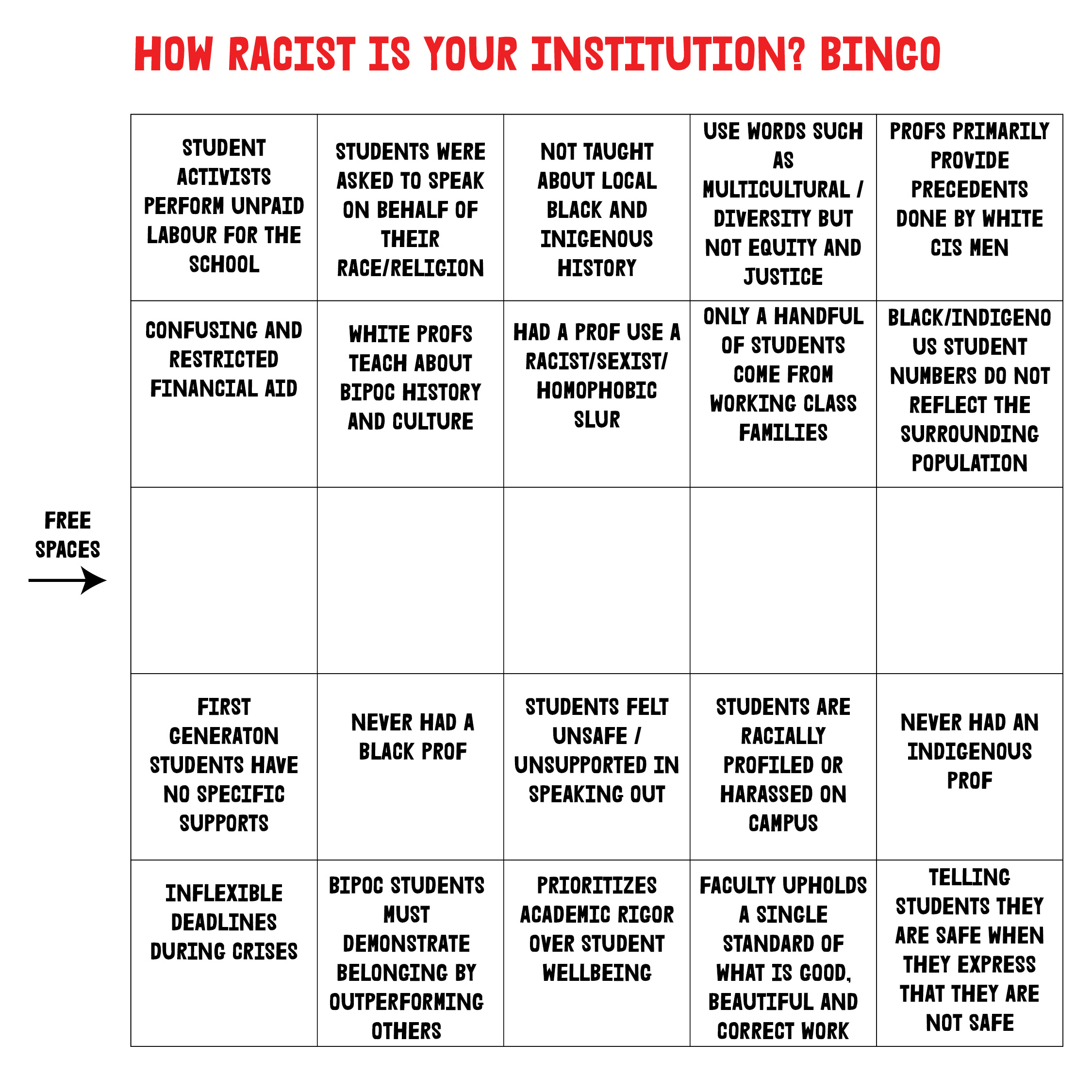 I will close this article by quoting Dr.Martin Luther King Jr.: "the arc of the moral universe is long, but it bends toward justice." As students of architecture and design, we will not give up until we break the foundations of our institutions which are rooted in western exceptionalism, colonialism, and white supremacy. And then, we will reimagine, and rebuild so that we can all receive an education that is rooted in equity and justice.